An interview with undergraduate K. M. Salim Andalib
October 2020
K. M. Salim is an undergraduate student at Khulna University, Bangladesh, studying Biotechnology and Genetic Engineering. He recently became a Champion and is keen to engage with the wider microbiology community. In this interview, K.M. Salim talks about his interest in microbiology and the initiatives he has taken to promote it among high school students.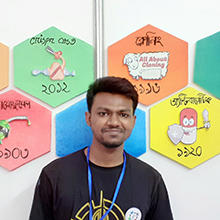 Can you tell us a bit about yourself?
I would love to describe myself in three words – curious, optimistic, and knowledge-seeking. I am a passionate undergraduate student pursuing a degree in life sciences at Khulna University in Bangladesh. I am someone who takes the time to continue learning even when it's not a direct requirement.
What sparked your interest in microbiology?
In my freshman year of university, I took a microbiology course. It covered basic bacteriology, virology, uses of microbes in biotechnology, and some common diseases. I have to thank my teacher, as he was able to spark an interest in microbiology in every students' heart. Ever since then I wanted to find out more about those tiny lives under the microscope.
What are your plans for the future?
My future plans involve continuing to learn and master essential skills, such as logical and independent thinking and flexibility. As I am still an inexperienced researcher, I am looking forward to gaining more experience working in the lab. I would like to work in the field of virology and decoding virus genomes.
Why did you decide to become a Champion?
I know I can make a difference and help raise the profile of the Microbiology Society. I believe my leadership and communication skills will give me a head start in organising any events or sessions to help promote the Society.
What are you hoping to achieve as a Champion?
Learning and distributing my knowledge to people is my greatest passion. As a Society Champion, I hope to organise events such as the 'Microbiology Olympiad' and 'Microbiology Innovation', where students will be able to come up with their best microbiology ideas and have the opportunity to make them come true.
You created a microbiology study group in Bangladesh; What was your motivation behind it and what did you want to achieve?
My goal was to inspire high school students to learn more about microbiology. I taught the students the necessary safety precautions while working in the lab; how to identify Gram-positive and Gram-negative bacteria under the microscope, and how to isolate and culture bacteria from various sources.
How did the study sessions go?
I taught a small group of 8 students who were excited to learn more about microbiology. Their interest inspired me to continue organising these study groups.
What were the challenges you faced while organising the sessions?
Finding an appropriate space for sessions was a big challenge. As it was my first time organising a study group, it was a challenge to plan the lessons with proper materials and deliver the lectures.
You are a content writer for Biodaily; Can you tell us more about the platform and what you do?
Biodaily is the first online magazine in Bangladesh that focuses on life science topics. I write about various biology topics in a language that is clear to people with no scientific background. So far, I've written about the origin of the science of biology, COVID-19, and other topics.
Why did you decide to join the Society?
I believe my decision to join the Society will open up many opportunities for me. It will be great for networking. I might get to go to a talk and hear from excellent scientists. Joining the Society will give me access to a variety of opportunities and keep me closer to my passion.
---
If you are a member of the Society and would like to find out more about how you can get involved with Society activities and/or showcase your research, please email us at

[email protected]

.