Celebrate the Society's diversity on LGBTQ+ STEM Day
16 June 2022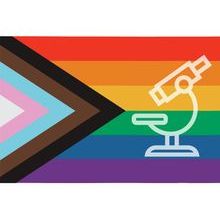 This Pride month, we're excited to let you know about a very special event taking place later in the year.
The Microbiology Society is hosting an online event, Queer in Microbiology: A Conversation, to celebrate the diversity of its community on LGBTQ+ STEM Day.
The event will include an online discussion with the participation of openly LGBTQ+ scientists representing different career stages, both in academia and the biotech industry. We will talk about the challenges that LGBTQ+ researchers face in their careers, and how they overcome these obstacles through community-building and learning from leaders in the field.
We have a fantastic line-up including Professor Bryan Bryson (Massachusetts Institute of Technology, USA), Dr Anna Fagre (Colorado State University, USA), Dr Jason Mellad (Start Codon, UK) and Professor Michael Sauer (Institute of Microbiology and Microbial Biotechnology, Austria).
The event is open to everyone and will take place virtually on 18 November 2022 at 15:00 GMT.
Please join us in this celebration of our scientists on LGBTQ+ STEM Day!
More information about the event and registration is available on the event page.
---
Image: I'ah Donovan-Banfield.