Protein Secretion at the Host-Pathogen Interface abstract submission deadline extended
18 July 2022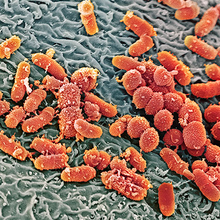 Protein Secretion at the Host-Pathogen Interface is pleased to announce an extension to the abstract submission deadline. Abstracts for offered oral and poster presentations can now be submitted until Monday 15 August, at 23:59 BST.
The meeting will take place 3–4 November 2022 in Belfast and will bring together world-leading experts on the structure and function of secretion systems as well as their protein cargos from diverse bacteria in Gram-negative and Gram-positive pathogens, providing attendees with an overview of the latest developments and fostering critical exchange, networking and new collaborations across the research community.
The scientific organising committee welcomes abstract submissions from both members and non-members of the Microbiology Society. All offered oral poster presentations will be selected from the abstracts submitted.
Submit your abstract

To learn more about the meeting and for abstract guidance, please visit the event webpage.
Updates on the meeting can also be found on our social media channels using the hashtag #HostPathSecretion22.
---
Image: STEVE GSCHMEISSNER / SCIENCE PHOTO LIBRARY.