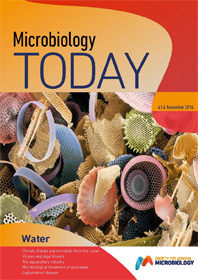 To view and print this document, you will need to download Adobe Acrobat Reader.
Water
17 November 2014 publication
Water is the focus of this November edition of Microbiology Today. The microbial interactions with this ubiquitous substance are vast. This issue features articles on how microbial life in the ocean affects climate change, the importance of the interaction between viruses and algal blooms for ecosystems, the microbial issues affecting the aquaculture industry, the microbial treatment processes developed for used water, how the cause of Legionnaires' disease was identified and the impact of microbes on the oil and gas fracking industry.
---
Cover image credit: Steve Gschmeissner/Science Photo Library