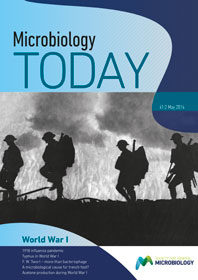 To view and print this document, you will need to download Adobe Acrobat Reader.
World War I
29 May 2014 publication
The May issue of Microbiology Today commemorates the 100-year anniversary of the start of the First World War. This issue recognises the role microbes played during this conflict with feature articles focusing on the impact of typhus, Spanish flu, trench foot and acetone production on people during the war; and the work of F. W. Twort during this period.