Dr James Redfern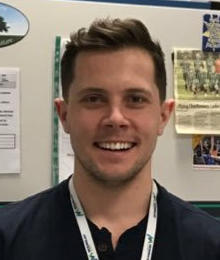 Reading is an inevitable part of science. Those interested in the latest scientific endeavours can often spend hours reading research papers, reviews, reports and guidance documents. Whilst this can often keep us up to date on the latest research in the field, it can sometimes be quite tedious and time consuming. But not all science-related reading has to be like that!
Like many people, I enjoy reading for pleasure. This often includes science fiction, epic fantasy and horror (think George R. R. Martin and Stephen King). When I found out about the Bad Bugs Book Club, run by Professor Jo Verran at Manchester Metropolitan University, I thought I should give it a go. The bookclub provides an opportunity to enjoy books in which microbiology – usually infectious disease – forms part of the plot. The group (usually around 8 people) meet roughly every two months, and comprises of microbiologists, scientists and non-scientists.
Over the last few years, I have read over 25 books with the Bad Bugs Book Club. Many of these are fiction, having covered everything from the 1300 plus page, The Stand by Stephen King; to Margaret Atwood's much more manageable Oryx & Crake. Often themes of apocalypse, spread of disease, impact on society, realism and accuracy of science are discussed, with the final question always being: "could we use this book in undergraduate teaching?".
We don't just read your standard book, we have also enjoyed the following:
Illustrated stories (e.g. Second Avenue Caper by Joyce Braber, about the HIV epidemic in the 1980s)
Comic books (e.g. Surgeon X by John Watkiss and Sara Cropley, about a dystopian antimicrobial resistant future),
Short stories designed to engage people on the topic of AMR (Infectious Futures, which won the Longitude Prize in 2015)
Books with accompanying Hollywood movies (e.g. The Girl with all the Gifts by M.R. Carey).
Authors who have been able to skype into the bookclub (e.g. Professor Mark Pallen, who discussed his non-fiction book The Last Days of Smallpox).
The entire back catalogue of books, accompanying reading guide and meeting report, can be found on the Bad Bugs Book Club website.
Being involved in a microbiology themed bookclub has allowed me to engage a different style of narrative concerning microbes. I think being able to discuss these concepts and ideas with other scientists and non-scientists provides an opportunity to reflect on micro-organisms in a way that I hadn't before. However, most importantly, being part of a book club related to a topic you are so passionate about is highly enjoyable and something I would recommend to all microbiologists and non-microbiologists alike!
---
For any more information about the Bad Bugs Book Club and how you can get involved, contact Professor Jo Verran at

[email protected]

or follow her on Twitter.