Victoria Doronina
Victoria Doronina is a Technical Officer at Manchester Metropolitan University. In this blog, she tells us how she went from never wanting to be a part of book club, to becoming more aware of microbes in literature and how this has inspired her to lookout for new potential members.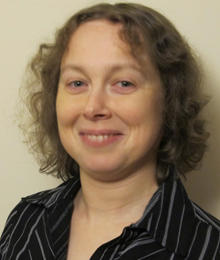 I have never wanted to be a member of a book club. I imagined that it involves sitting in a circle discussing books like "Confessions of a Consumer" and "Murder Most Horrid." Not that I am averse to reading murder mysteries, but they are usually crystal clear – I didn't see the point in discussing them. But my book club snobbery ended when I joined the Bad Bugs Book Club at Manchester Metropolitan University (MMU).
I work as a Technical Officer at MMU which has a tradition of running professoriate lectures given by university professors. I went to the one offered by Professor Jo Verran. Among her fascinating public engagement projects, she had mentioned the Bad Bugs Book Club that meets every 3 months to discuss books connected with the infection or micro-organisms at large.
The book club meeting usually takes place in the evening at a hipster pub with gothic art on the walls. The people attending are a mix of microbiologists and lay book lovers. This mix of microbiological expertise and other worldviews results in fascinating discussions, sometimes involving the book authors via Skype link.
It had only taken me another year after the lecture to pluck up the courage to go and meet the members in person. Before that, I went through the club back catalogue, which contains the titles of books discussed and minutes of the meeting. This means that anybody can jumpstart their own club or compare their notes with the Manchester branch.
Again, I thought that a thousand stories of the world devastated by a viral epidemic written in the early 21st century would get repetitive very soon. But as I discovered via the book club, the broad topic of microbes in popular literature started in the 19th century. Mary Shelley, who came to fame after writing Frankenstein has written a novel titled "The Last Man" about what we now would call the pandemic of plague in 1826.
I also didn't expect a wide variety of literary genres that deal with microbes. Starting with non-fiction such as "The Last Days of Smallpox: Tragedy in Birmingham" by Professor Mark Pallen, who writes about the last British smallpox infection at the end of the 1970s. (Some of the club members were old enough to remember the press coverage or even mouth pipetting).
There is also the literary fiction of "Nemesis" by the US modern classical writer Philip Roth – voted the best book of the decade by the Bad Bugs Book Club –arching all the way through to thriller and science fiction from a book about the microbial destruction of the world's supply of oil to a disparity of organisms and intellects evolution on a generation ship in "Aurora" by Kim Stanley Robinson (disclaimer: I proposed it as one of the candidates).
After being a book club member for a while, I have become more aware of microbes in literature. I am always on the lookout to find the next person to join the Bad Bugs Book Club discussion and for someone who is a connoisseur of the genre who can still be amazed at the new twists in the reflection of microbial life in popular literature and collective consciousness.
---
For any more information about the Bad Bugs Book Club and how you can get involved, contact Professor Jo Verran at

[email protected]

or follow her on Twitter.