An interview with Dr Zaaima Al-Jabri
November 2019
Dr Zaaima Al-Jabri is Assistant Professor in the Department of Microbiology and Immunology at Sultan Qaboos University in the Sultanate of Oman. She has been an active member of the Society since her PhD studies at the University of Leicester. Alongside her research and role as Assistant Professor, Zaaima is also passionate about communicating the importance of microbiology to the wider public in order to raise awareness of current challenges, such as antimicrobial resistance (AMR).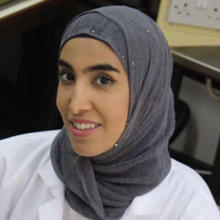 Tell us a little about your role as Assistant Professor at Sultan Qaboos University.
As an Assistant Professor, I teach medical microbiology to medicine, nursing, medical laboratory, and master's students. I also supervise a number of undergraduate and postgraduate projects. I am involved in health education and outreach activities for school students and am a member of the Diagnostic and Clinical Services Committee at the Sultan Qaboos University Hospital.
What does your research focus on?
My research focuses on investigating the role of mobile genetic elements (MGE) in the spread of AMR and their mechanism of transfer between bacteria. I use bioinformatics tools and phenotypic assays to characterise the molecular aspects of resistance.
I've been studying the roles of so-called genomic islands and transposable elements in disseminating antibiotic and biocide resistance in organisms such as Acinetobacter baumannii and Gram-positive bacteria. Recently, I've been investigating the reservoir of genes conferring heavy metal resistance, such as copper resistance in Staphylococcus epidermidis.
What is your biggest professional achievement(s) so far in your career?
After completing a PhD in Infection, Immunity and Inflammation at the University of Leicester, UK, I was awarded the National Research Award (NRA) for the best research work in Health and Social Service, by The Research Council in Oman for my paper "Integrase-controlled excision of metal-resistance genomic islands in Acinetobacter baumannii".
I've also been Shortlisted for the CLS College Prize for Excellent PhD Performance in 2018 by the Department of Infection, Immunity and Inflammation at the University of Leicester.
Why did you join the Society?
I first joined the Society as a postgraduate student during my PhD. The Microbiology Society is the largest community for microbiologists in Europe, so this is a great opportunity for me to gain valuable experience and to present my research to the community. I've been able to meet many experts in the field and discuss potential collaborations. Also, as a member of the ECM Forum, I've had the chance to co-chair sessions in some infection forums at Annual Conference. As a young microbiologist I believe the Society is a great platform to network with scientists in Europe and internationally.
What are the main benefits for you as an overseas member?
The Society has given me the opportunity to present my work to a wider audience at Annual Conference. I've also received a Travel Grant as well as support with caring costs in the past few years to attend conferences in the UK and Republic of Ireland. The Society also offers International Research Visit grants for young scientists.
How do you keep up to date with the latest microbiology news?
As a full member of the Society I receive the quarterly magazine, Microbiology Today, which provides a valuable source of updates. I'm also a member of the European Society of Microbiology and Infectious Diseases (ESCMID), which also helps to keep up to date with clinical research. On top of that, attending symposiums and conferences is a very valuable resource for research updates.
What made you want to pursue a career in microbiology?
Microbiology has always been a fascinating field to me. I've always enjoyed biology in general. During my training as a medical doctor, I would encounter patients with different infectious conditions on a daily basis. This has increased my interest in becoming a researcher in microbiology, which is a growing field that utilizes a wide range of approaches including genetics, genomics, and bioinformatics.
Why does microbiology matter?
Microbes live in and on us. They are in the air, in the food we eat and in the water we drink. They are everywhere, and they are our ally! But why did such micro-organisms evolve to become an enemy that we fight against? How did they become smarter and develop resistance? How do we tackle the global threat of antimicrobial resistance? All these questions, and many more.
---
If you are a member of the Society and would like to find out more about how you can get involved with Society activities and/or showcase your research, please email us at

[email protected]

.