An interview with Dr Karen Olsson-Francis
March 2020
Dr Karen Olsson-Francis is Director of AstrobiologyOU and a member of the Microbiology Society. In this interview she tells us more about her research which tries to understand life beyond Earth and why she thinks microbiology matters.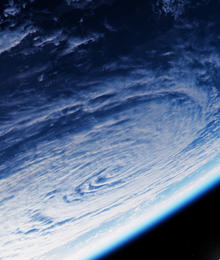 Tell us about your current role
I am Director of Astrobiology OU. AstrobiologyOU is an interdisciplinary research group that is working collaboratively to address the scientific, governance and ethical challenges associated with the advancement of astrobiology and related space exploration missions; whilst ensuring societal benefits and sustainability.
As a microbiologist, my role is to understand the limits of life on Earth and to identify evidence which can be used to detect such life elsewhere in the Solar System. This involves a combination of field work in some of the most extreme environments on Earth and also simulation experiments in the lab. The information that I generate is used to understand where life could exist beyond Earth and what bio-signatures could be used to detect such life.
In 2011 you were awarded a UKSA Aurora Fellowship, can you tell us more about your research during this time and why it was important?
I received a UKSA Fellowship at a pivotal point of my career and it gave me the flexibility to work part time for a period when my children were very young.
What qualifications did you obtain before starting this role?
I have a PhD in Microbiology from the University of Otago, New Zealand and a BSc(Hons) in Microbiology from Heriot-Watt University, Edinburgh, UK.
What are the professional challenges that present themselves and how do you try to overcome them?
I found the transition from postdoctoral research assistant (PDRA) to Principal Investigator (PI) challenging. It required project management and leadership skills, which traditionally as scientists, we are not taught. To overcome this challenge, I ensured I obtained training in these areas.
What is a typical working day for you?
I start work early, at about 6:30, so that I can pick my children up from school. I spend a lot of my day in meetings talking about research or administration.
Tell us about your biggest professional achievement(s) so far.
Receiving £6.7 million from Research England to develop AstrobiologyOU. This has allowed us to travel to the most extreme environments on the Earth to study extremophiles.
You are an active member of the Microbiology Society – tell us more about your involvement
I am a member of the Prokaryotic Division and I have been involved in organising Annual Conference. Last year I organised the Extremophiles: living life on the edge symposium at Annual Conference.
Why is it important to be a member of an organisation like the Microbiology Society?
You realise that there is a whole network of microbiologists in the UK and learn about their work at Annual Conference and by reading Microbiology Today.
Where did your interest in microbiology come from?
Figuring out that micro-organisms are everywhere and that they can be used in biotechnology.
Why does microbiology matter?
Microbiology helps us to define the limits of habitability, which is prudent when we are looking for life elsewhere in the solar system.
---
If you are a member of the Society and would like to find out more about how you can get involved with Society activities and/or showcase your research, please email us at

[email protected]

.