An interview with Professor Penny Hirsch
December 2019
Professor Penny Hirsch is a member of the Microbiology Society and previously worked in the Sustainable Agriculture Sciences Department at Rothamsted Research. She was a member of the panel at the Microbiology Society's 'A Sustainable Future' launch event and also sat on the Expert Working Group and took part in the Stakeholder Workshops for the Microbiome Policy Project. In this interview she tells us about her career in microbiology and her research into the complexity of soil microbial communities.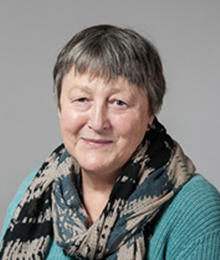 Where did your interest in microbiology come from?
I started my career in microbiology in 1974, working for a PhD on Rhizobium leguminosarum genetics in the context of symbiotic nitrogen fixation at the John Innes Institute in Norwich.
At the time we were all aware that fossil fuels were running out, extraction of depleted global coal, oil and gas reserves would become uneconomic by the end of the 20th century and the energy-dependent Haber-Bosch Process used to produce nitrogen fertiliser for agriculture was unsustainable. However, North Sea oil and gas were discovered and funding for biological nitrogen fixation in the UK dried up.
For several years I worked on other topics including heterologous gene expression in yeast; and in other countries – Germany, Belgium, and the Netherlands. Eventually, I moved to Rothamsted Research in Hertfordshire, a major centre for arable crop research which receives much of its funding from the Biotechnology and Biological Sciences Research Council (BBSRC) and I discovered that my early career European links were invaluable for obtaining EU funding.
How did your research interests lead you to focus on agricultural microbiomes?
At Rothamsted, I worked on many areas of beneficial plant–microbe–soil interactions over the years, including rhizobia and legumes, mycorrhizal fungi and plant-growth-promoting rhizobacteria, eventually leading a group researching soil microbiology.
As technology advanced, we moved from studying individual isolates and small communities to whole microbiomes, using next-generation sequencing and quantitative polymerase chain reaction (qPCR). This approach revealed the complexity of soil microbial communities, hitherto considered as an impenetrable black box. Conventional wisdom was that fewer than 1% of soil bacteria and very few archaea could be isolated in lab culture. Many are slow-growing, fastidious oligotrophs, rapidly swamped by a fast-growing minority. However, DNA and RNA can be extracted from everything in the soil, enabling comparison of the abundance, diversity and activity of different groups, and provide an insight into how the soil communities responsible for cycling major and minor nutrients make these available to plants. This is essential for making the best use of the resources available to farmers, including crop residues, manures fertilisers. It also helps us to understand how soil generates and ameliorates greenhouse gases, notably nitrous oxide, an unwanted side-effect of the nitrogen cycle.
What are your thoughts on the future of agricultural research?
With current concerns over climate change, biological nitrogen fixation has once again become topical, with funding agencies taking the subject seriously and farmers looking to incorporate more legume crops into crop rotations. It is satisfying to see the research cycle return to my first interest, but frustrating that it has happened at the end of my career. I look forward to watching the next generation of young scientists resolve to use the best methods to exploit the microbial resources in the soil for truly sustainable food.
---
If you are a member of the Society and would like to find out more about how you can get involved with Society activities and/or showcase your research, please email us at

[email protected]

.