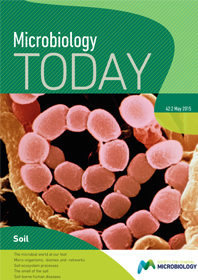 To view and print this document, you will need to download Adobe Acrobat Reader.
Soil
07 May 2015 publication
Soil is the focus of the May 2015 issue of Microbiology Today. 2015 has been designated the International Year of Soils by the United Nations General Assembly to raise awareness and prioritise the protection of soil and soil life. Articles in this issue draw attention to the microbial world at our feet, the micro-organisms, microbiomes and microbial networks that exist, the ecosystem processes at play, the evocative smell of soil, the balance between protecting health and prevent soil degradation, and the microbial clues helping determine time of death in criminal cases.