An interview with Robert Will
January 2020
There are many ways to get involved and take an active role in the Microbiology Society. Members are encouraged to take part in activities and put themselves forward to help shape the Society to ensure it meets the needs of members.
Microbiology Society member Robert Will is based at the University of Cambridge and is a Society Champion and in 2019, was elected Communications Representative for the Society's Early Career Microbiologist's Forum Executive Committee. Robert has also previously organised a Microbiology Symposium at Cambridge with support from the Microbiology Society.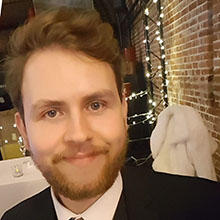 Tell us a little about your research and why it is important
My research works to improve our understanding of Corynebacterium diphtheriae – the causative agent of the respiratory disease diphtheria – including its evolutionary history and how it changes around the world. This is important as, despite being vaccine-preventable, the disease is starting to re-emerge, and we need understand how the bacteria has changed in order to fight it.
Why does microbiology matter?
Microbiology, or more specifically micro-organisms, matter to everything. From our own health to the food we eat and new ways to counter climate change, bacteria fungi viruses and archaea are key to so much.
Where did your interest in microbiology come from?
I loved genetics during the GCSE modules, and wanted to look more into how organisms evolved over time. That coupled with my initial career idea from a young age of being a vet lead me to microbes that infect animals, and following the pathway of a zoonotic disease, I jumped from there to pathogens that impact human health.
You are a Society Champion, tell us a little about what is involved and some of the activities you have been involved with.
The role is great for me, as it just gives me another excuse to talk a lot about a subject I really enjoy! I've always liked organising events, and so with my College and the Society's support we hosted a Microbiology Symposium evening at Hughes Hall here in Cambridge. The evening went really well, with four speakers discussing everything from international intervention schemes to historical parasites. A particular highlight was Professor Hilary Lappin-Scott who talked about her life and career in the field.
You were recently elected Communications Representative for the Early Career Microbiologist's Forum Executive Committee, tell us a little about what is involved.
I see it as another way to be involved in the Society and help represent the early career researchers that are the future of the field. I think it's a real strength of the society that they value and appreciate all the young scientists among their membership, and that's echoed by the Early Career Microbiologist's (ECM) Forum. As a member of the ECM Forum Executive Committee, you are also part of the Society-wide committees – in my case the Communications Committee. This allows the ECM Forum Committee members to put forward the views of early career microbiologists (ECMs) for important decisions made across the society.
Why is it important to be a member of organisations like the Microbiology Society?
I think it's always important to be part of a professional organisation representing your field, but the opportunities afforded by membership are great as well! Grants are available to members which cover travel, research and events to name a few, and finding out about conferences and Focused Meetings is always really exciting. A particular highlight from 2019 was the Annual Conference in Belfast, my first ever conference but also a great opportunity to listen to great talks not far from where I grew up.
What would your advice be for anyone thinking about getting more involved?
Keep an eye out on volunteering opportunities section of the website, there's nearly always something going on. An easy way to get more involved immediately is by becoming a Society Champion. It's a great scheme with really good support and resources to help you organise your own events. Finally, the President's Roadshows are ongoing, so keep an eye out for your local one!
We are hosting a Roadshow event at the University on 28 April, what can delegates expect by attending?
I'm hoping for a really lovely afternoon hearing from Professor Judith Armitage and meeting other local members of the Society. From my admittedly limited experience, the best networking happens at these slightly smaller more focused events, so if you are in the Cambridge area, come along to Hughes Hall on 28 April and stop by!
Register to attend the Cambridge Roadshow event.
Find out more about:
---
If you are a member of the Society and would like to find out more about how you can get involved with Society activities and/or showcase your research, please email us at

[email protected]

.