The history of antibiotics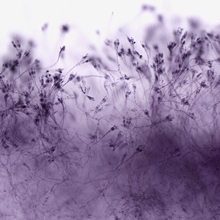 Antibiotics have been used for millennia to treat infections, although until the last century or so people did not know the infections were caused by bacteria. Various moulds and plant extracts were used to treat infections by some of the earliest civilisations – the ancient Egyptians, for example, applied mouldy bread to infected wounds. Nevertheless, until the 20th century, infections that we now consider straightforward to treat – such as pneumonia and diarrhoea – that are caused by bacteria, were the number one cause of human death in the developed world.
It wasn't until the late 19th century that scientists began to observe antibacterial chemicals in action. Paul Ehrlich, a German physician, noted that certain chemical dyes coloured some bacterial cells but not others. He concluded that, according to this principle, it must be possible to create substances that can kill certain bacteria selectively without harming other cells. In 1909, he discovered that a chemical called arsphenamine was an effective treatment for syphilis. This became the first modern antibiotic, although Ehrlich himself referred to his discovery as 'chemotherapy' – the use of a chemical to treat a disease. The word 'antibiotics' was first used over 30 years later by the Ukrainian-American inventor and microbiologist Selman Waksman, who in his lifetime discovered over 20 antibiotics.
Alexander Fleming was, it seems, a bit disorderly in his work and accidentally discovered penicillin. Upon returning from a holiday in Suffolk in 1928, he noticed that a fungus, Penicillium notatum, had contaminated a culture plate of Staphylococcus bacteria he had accidentally left uncovered. The fungus had created bacteria-free zones wherever it grew on the plate. Fleming isolated and grew the mould in pure culture. He found that P. notatum proved extremely effective even at very low concentrations, preventing Staphylococcus growth even when diluted 800 times, and was less toxic than the disinfectants used at the time.
After early trials in treating human wounds, collaborations with British pharmaceutical companies ensured that the mass production of penicillin (the antibiotic chemical produced by P. notatum) was possible. Following a fire in Boston, Massachusetts, USA, in which nearly 500 people died, many survivors received skin grafts which are liable to infection by Staphylococcus. Treatment with penicillin was hugely successful, and the US government began supporting the mass production of the drug. By D-Day in 1944, penicillin was being widely used to treat troops for infections both in the field and in hospitals throughout Europe. By the end of World War II, penicillin was nicknamed 'the wonder drug' and had saved many lives.
Scientists in Oxford were instrumental in developing the mass production process, and Howard Florey and Ernst Chain shared the 1945 Nobel Prize in Medicine with Alexander Fleming for their role in creating the first mass-produced antibiotic.