Antibiotics Unearthed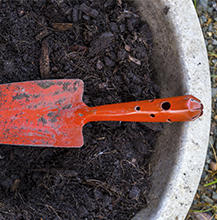 'Antibiotics Unearthed' was a public engagement venture inspired by the Small World Initiative™, organised and managed by the Microbiology Society for four very successful years.
Antibiotics Unearthed gave the general public, students and educators throughout the UK and Ireland a unique opportunity to work with scientists as part of a global initiative to discover new antibiotics from soil bacteria.
Most antibiotics in current use have come from soil bacteria. The Small World Initiative™, first organised by Yale University, continues to be an innovative and authentic research project, which uses crowdsourcing to discover new antibiotics from soil bacteria. The Society took the project further by including school pupils and the general public.
During the project, undergraduate and school students analysed their samples for antibacterial compounds and investigated any potential compounds found. By taking part in real research, they experienced what it would be like to follow a scientific career and hopefully think about a future career in science.
A series of 'pop-up' events also took place across the UK and Ireland, giving members of the public an opportunity to submit their soil samples, make observations, speak to scientists and track online through the analysis process after the event.
Antibiotics are important medicines for treating bacterial infections in both humans and animals. Unfortunately many of the bacteria which cause these infections are becoming resistant to existing antibiotics.

Antibiotics Unearthed engaged the public with the global issue of antimicrobial resistance through a practical soil-based activity, to address some of the challenges associated with the discovery of novel antibiotics. A series of 'pop-up' events took place at locations throughout the UK and Ireland, with a variety of hands-on activities for visitors to engage with on the issue of antimicrobial resistance and drug discovery. Those taking part tracked their sample and subsequent analysis online.

As part of our work with Antibiotics Unearthed and ensuring we continue to learn and unearth antibiotics, the Society collaborated on cross-disciplinary match-funded PhD studentship with the University of East Anglia (UEA). We have also compiled a list of resources which can be downloaded.

Useful links
Longitude Prize
The Longitude Prize needs you
RCUK highlights initiatives to tackle antimicrobial resistance
Small World Initiative
WHO AMR report
Yale University