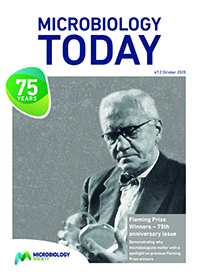 To view and print this document, you will need to download Adobe Acrobat Reader.
Fleming Prize Winners
20 October 2020 publication
In this special anniversary edition of Microbiology Today, we are placing the spotlight on previous Fleming Prize winners to demonstrate why Microbiologists matter. Through a series of interviews, the winners share their career experiences and provide their personal take on the importance of microbiology.