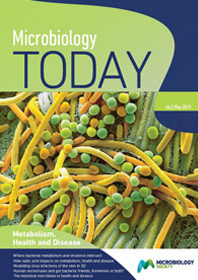 To view and print this document, you will need to download Adobe Acrobat Reader.
Metabolism, Health and Disease
07 May 2019 publication

The May issue of Microbiology Today focuses on the varied interactions between humans and micro-organisms in terms of metabolism, health and disease. This issue's feature articles focus on a range of microbes, including bacteria, viruses and fungi, looking at both the beneficial impact on human health and how they cause disease.