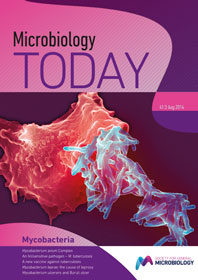 To view and print this document, you will need to download Adobe Acrobat Reader.
Mycobacteria
27 August 2014 publication
This August issue of Microbiology Today highlights the family of bacteria called mycobacteria. The organisms that cause tuberculosis in humans and animals, Mycobacterium tuberculosis and Mycobacterium bovis, are featured in this edition alongside Mycobacterium leprae, the cause of leprosy, and Mycobacterium ulcerans, which causes Buruli ulcer.
---
Cover image credit: Science Photo Library