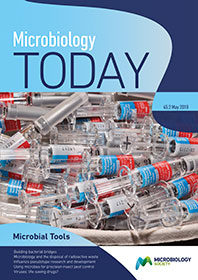 To view and print this document, you will need to download Adobe Acrobat Reader.
Microbial Tools
15 May 2018 publication

The May 2018 issue of Microbiology Today focuses on the use of micro-organisms as tools in a wide range of contexts. Throughout our feature articles, there is an emphasis on the beneficial ways in which microbes can be utilised, in areas as diverse as construction, pest control and the disposal of radioactive waste.
Using bacteria to make self-healing concrete