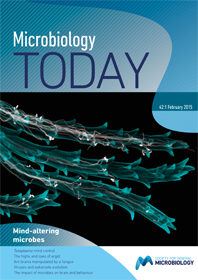 To view and print this document, you will need to download Adobe Acrobat Reader.
Mind-altering microbes
25 February 2015 publication
This February edition of Microbiology Today focuses on mind-altering microbes, which are often explored in the realms of dystopian science fiction. Real life mind-altering microbes can also seem frightening in their effects, but are equally fascinating. This issue features articles on Toxoplasma gondii's mind control abilities, the hallucinogenic properties of ergot, fungi that turn ants into zombies, wasps that have developed a way of parasitising their caterpillar host, microbes that may influence and manipulate behaviour and an overview of the 2014 Ebola outbreak.