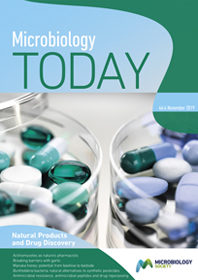 To view and print this document, you will need to download Adobe Acrobat Reader.
Natural Products and Drug Discovery
05 November 2019 publication

Natural Products and Drug Discovery are the topics explored in the November edition of Microbiology Today. Various potential sources of novel drugs are discussed, with the featured articles examining the promise of foods such as honey and garlic, as well as bacterial products. The repurposing of existing drugs is another topic covered in the featured articles, as well as the process of drug development from an industry perspective in the Comment piece.
Microbiology Today podcast: Natural Products and Drug Discovery