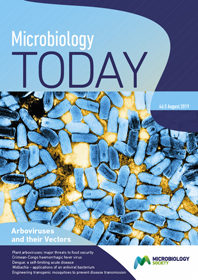 To view and print this document, you will need to download Adobe Acrobat Reader.
Arboviruses and their Vectors
06 August 2019 publication

Microbiology Today August 2019 considers some of the viruses that are transmitted by arthropods and the arthropod vectors that carry them. The five feature articles look at how arboviruses affect plants, animals and humans alike and cover a range of topics, from overviews of specific arboviruses to how to control the spread of the diseases they cause by targeting the vectors that facilitate their transmission.